Are you looking to book a yacht in Mumbai and are wondering about the best time for it? Are you confused between the multiple time slots offered for sailing in Mumbai? Want to experience sunset sailing in Mumbai and are unsure which time slot is ideal?
Not to worry! This guide has all the information you need to select the best time for sailing in Mumbai as per your preference.
Yacht in Mumbai - Time Slots
Morning
07:00 AM to 09:00 AM (recommended)
09:00 AM to 11:00 AM
Afternoon
02:00 PM to 04:00 PM
Evening
04:00 PM to 06:00 PM (recommended)
06:00 PM to 08:00 PM (recommended)
Night*
08:00 PM to 10:00 PM (*Available only on selected yachts at an additional cost)
Yacht in Mumbai - Weather Conditons
Weather plays the most important role in your overall sailing experience. This includes the wind speed, sea state and temperature.
As sailing yachts are mainly powered by wind, wind speed is most important of all and then the sea state. However, predicting the accurate wind speed and sea state well in advance is not always possible.
This leaves us with the choice of selecting the correct time slot for a satisfying sailing experience. Below is the list of time slots recommended with the highest possibility of a good sailing experience.
First Preference
The most preferred time slots for sailing in Mumbai are 7-9 am, 4-6 pm and 6-8 pm. The weather is usually pleasant during these slots with the best wind conditions. And even if the wind speed it less the overall experience is still good as the sun is not very harsh during these slots.
Second Preference
The second most preferred slots are 9-11 am and 2-4 pm. It is usually sunny during these time slots. However, if the wind speed is sufficient, the overall sailing experience is still good.
Third Preference
Any time between 11 am to 2 pm. We do not recommend sailing in Mumbai between 11:00 am to 2:00 pm as there is very little to almost no wind during this time of the day.
Sunrise Sailing in Mumbai
The earliest possible time slot for sailing in Mumbai is 7:00 am to 9:00 am. This is the only slot possible for a nearest to a sunrise sailing experience.
Also, the early bird gets the worm. Almost all yachts in Mumbai are offered at a discounted price for morning slots.
Sunsets at Gateway of India are gorgeous and are best viewed while sailing in the Mumbai harbour. If you are a sunset lover, a sunset sailing experience in Mumbai is definitely a must try for you.
Below are the recommended time slots for a sunset sailing in Mumbai.
| Month | Recommended Time Slot |
| --- | --- |
| October | 4:00 pm to 6:00 pm |
| November | 4:00 pm to 6:00 pm |
| December | 4:00 pm to 6:00 pm |
| January | 4:00 pm to 6:00 pm |
| February | 6:00 pm to 8:00 pm |
| March | 6:00 pm to 8:00 pm |
| April | 6:00 pm to 8:00 pm |
| May | 6:00 pm to 8:00 pm |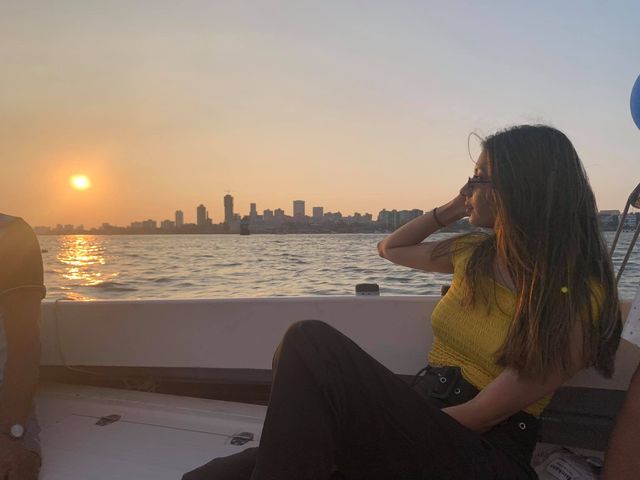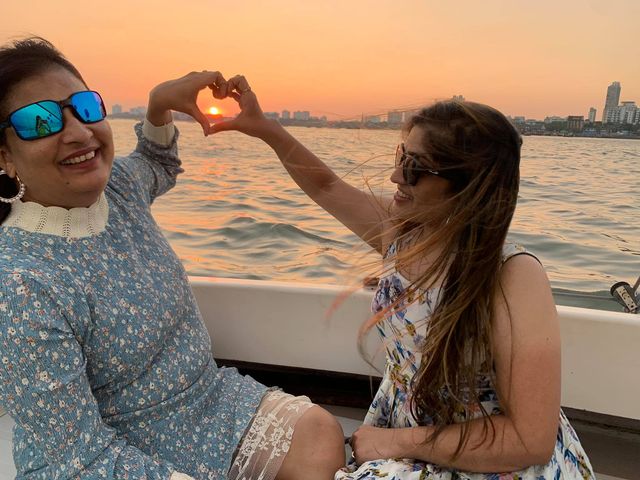 Sailing at night from Gateway of India is a magical experience. Once the sun goes down, the weather is perfect for a peaceful sailing time. If you do not like to be out in the sun for long, sailing post sunset would be pleasant for you.
You will get a beautiful view of the shore from the yacht with Gateway of India and Taj Hotel fully lit-up with lights.
6:00 pm to 8:00 pm slot is ideal for a night sailing experience.
Approx. Sunset and Sunrise Timings in Mumbai
| Month | Sunrise | Sunset |
| --- | --- | --- |
| October | 06:30 am | 06:10 pm |
| November | 06:45 am | 06:00 pm |
| December | 07:00 am | 06:00 pm |
| January | 07:15 am | 06:20 pm |
| February | 07:05 am | 06:40 pm |
| March | 06:45 am | 06:45 pm |
| April | 06:20 am | 06:55 pm |
| May | 06:10 am | 07:00 pm |
The timings mentioned above are approximate and may vary by +/- 10 minutes depending on the date.
For accurate sunset and sunrise timings please check the link below:
https://www.timeanddate.com/sun/india/mumbai